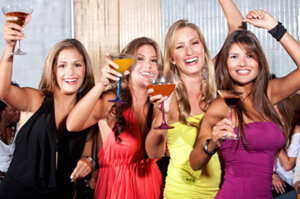 People say that a woman starts planning her wedding day the minutes she can walk. This is usually true in a certain percentage of women and so they try everything to ensure that their wedding takes place without a hitch or glitch.

Before the actual wedding day, a woman has one last night with her friends to do the things that she will no longer be able to do after she gets married. This last day of freedom calls for a very special bachelorette party. A bride will remember and treasure memories from her bachelorette party for many years to come.

There are many things to do during a bachelorette party but they all mostly revolve around drinking and partying. Traditionally, a woman should no longer go out to clubs and party all night after she gets married because she assumes the new role of home maker.

Therefore, her bridal party will endeavor to give her the last night of clubbing and partying as a single woman. Bachelorette parties in Toronto are mainly organized by the best maid or maid of honor.

Planning a Toronto bachelorette party requires careful consideration and preparation. If you intend to have your bachelorette party at home, then there is not much to it other than a regular party. However, most people prefer to have the party in night clubs, concerts and events. They book hotel rooms and move from one club to another.

Drinking is very common in any bachelorette party. Because of this, having a reliable means of transport is very important. A limo will certainly transform your party to a livelier one. Fully equipped with music systems, min bars and a dance floor, you can even decide to have your party right inside the limo. Regardless of location, a limousine will definitely change the tone of the party and make it much more memorable and enjoyable.